This past Sunday, I participated in an event that I had always heard about, and thought was really neat, but had never participated in it myself. I am talking about the Susan B. Komen Race for the Cure event that they have all over the nation. I decided, back in July, that this was something that I really wanted to do this year. Now, don't forget, that I am NOT a runner. Yes, they have different events, like the walks, but for some reason, I decided that I was going to participate in the 5K women's run. I started training for it, little bits at a time. I remember when 60 seconds of running KILLED me. Then slowly I started to do more and more. I felt ready for my run on Sunday.
What I didn't expect during my run, was how emotional I would be. A run is a run, right? Wrong. While I was running, I was seeing women all around me who had pink "breast cancer survivor" hats, or people with "in memory of____" or "in celebration of ____" papers on their backs. All these people running or participating in the event have somehow been touched by breast cancer. I didn't have a pink paper on my back (I didn't know you could have them?) but if I could have, mine would have read "In Memory of Brenda Daehn". That's who I ran the race for today.
Let me tell you about my dear friend, Brenda. I met Brenda when I was an 18 year old freshan college student at Portland Bible College. I was working in the church office, and she would come in with her 2 year old daughter and make copies. During this time we began to chat a bit and get to know each other. I had the awesome opportunity to travel to Europe with Brenda and her family, and work as a nanny for her then, 2 daughters. Being so close with her day in and day out, I saw what an amazing woman she was. A woman who weathered heartache after heartache (a few miscarriages, and a stillborn son at full term), but still had a sweetness of her spirit.
Brenda and 9 month old Carissa, at a cafe in Holland, summer 2001.
In England, summer 2001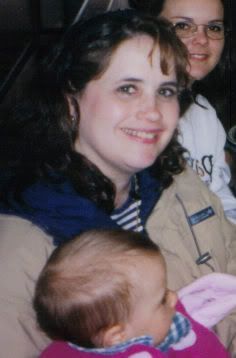 Right after our Europe trip, Brenda found out she was pregnant with her 3rd child. Around 3 months before Brenda's baby was due, she found a lump and they discovered that she had breast cancer, stage 4. It was such an awful time. They waited 2 months and then enduced her so she could start chemo right after her 3rd daughter was born. Thus began a 5 year battle with breast cancer.
Brenda and I at my wedding, May 2002.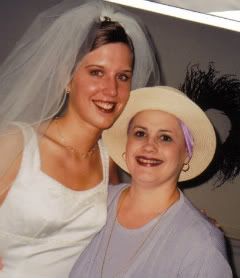 Me, Brenda and her precious girls at my wedding, May 2002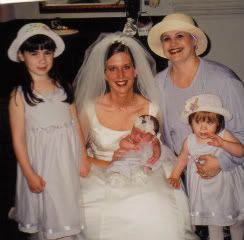 Brenda and her family visiting me at the hospital after Sophie was born, May 2006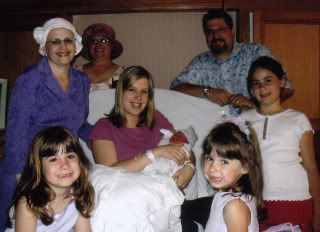 During those 5 years, there were so many ups and downs. Times when you just KNEW she had "Beat it". But then came the devestating news that it had come back full force. On March 19, 2007, Brenda passed away. She left behind her husband, Brian, and 3 daughters, Destiny (9), Carissa (6) and Tori (4).
Brenda may be gone but she has touched my life in ways that I never imagined. I still think of her daily and remember her beautiful smile, her encouraging words after I was dealing with a colicky infant, and how, no matter how sick she was, she always asked first, how I was doing.
Brenda, I ran for you on Sunday. I miss you incredibly and pray that one day soon we can find a cure for this horrible disease. I love you!
Me, after the Race for the cure run on Sunday