My girl is getting so big! Today we embarked on a new adventure: her first trip to the dentist!! I remember when my younger sister when to the dentist for the first time when she was 2.5 years old and it was a traumatic experience for her b/c the dentist was so rough with her.
I brought Sophie with me to my dentist appt back in August. She sat and watched the dentist do everything to my teeth. The dentist had her "help" too, by helping push the button for the x-rays and the chair. Sophie was pretty interested in it all, and I think it was a good way to get her introduced to the dentist.
For the past few weeks we've been "playing dentist" and talking a lot about what a dentist does, so Sophie was very excited to go to the dentist today. When she first sat in the chair, she was a bit timid, and wanted to hold my hand. But then they hygienist, Carolyn, gave her a ride up and down in the chair, and Sophie loved that! Then Carolyn showed Sophie all the different instruments they were going to use, like the polisher, the air sucker and the water sprayer and she tried them all out for Sophie.
Can I just saw, I was so incredibly proud of Sophie. She opened her mouth nice and wide, was so compliant and they even got to polish all of her teeth. I couldn't have expected it to go any better. I think it helps that our dentist is WONDERFUL too (anyone need a dentist in Vancouver? Just ask me).
A little nervous, sitting in the dentist chair.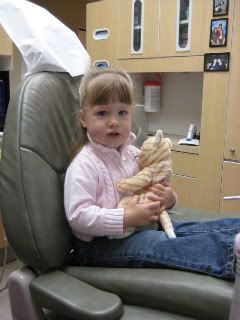 Getting her teeth checked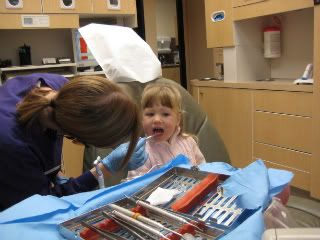 Getting her teeth polished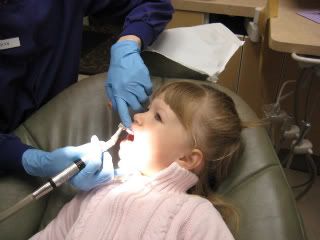 The best part...the prize drawer!